Poplar View Farm is a small family farm located near the foothills of Willis Mountain in Buckingham County in the heart of Virginia.  We raise free-range laying hens and sell farm fresh brown eggs in the Dillwyn and Farmville area.  You may purchase our eggs from Millbrook County Corner, Pineview Bulk Food & Deli, and Reid's Super Save Market in Dillwyn.  For more information, please contact us.
Due to David's recent surgery, we have sold our Katahdin and Texel sheep flocks and we greatly appreciate our customers that have purchased seedstock and lamb from us for a number of years.  During the current COVID-19 risk, we are taking extra precautions here on the farm to help prevent the possible spread of this disease.  Be safe and please contact us if we can be of assistance.
David Wise, President of Poplar View Farm LLC, (pictured above) grew up on his family's farm in Buckingham County Virginia where he now owns and operates a portion of that original farm.  Growing up David was active in FFA, 4-H, Boy Scouts, and his church.  He helped his family raise broiler chickens for Holly Farms and later Tyson Foods, as well as beef cattle, hay, and some row crops.  David first became interested in raising sheep when his brother graduated from Virginia Tech and came home and started a flock of Western ewes.  He assisted his brother some with lambing, shearing, etc. and gained an early understanding of some of the day-to-day requirements for being a successful shepherd.  After graduating from Buckingham County High School, David attended Virginia Tech where he majored in Poultry Science but also took Sheep Production and a variety of classes throughout the College of Agriculture and Life Sciences there to broaden his knowledge and understanding of agriculture, agribusiness, economics, nutrition, crops, and pasture management.  David graduated from Virginia Tech in 1989 with a Bachelors of Science in Poultry Science and also was a brother of the National Agriculture Fraternity, Alpha Gamma Rho.  After graduation, David worked in the poultry industry in North Carolina and Virginia for five years.  In 1994, David became an Insurance Agent serving the insurance needs of farmers and rural Virginians.  In 2009, David decided to become an independent insurance agent where he still specializes as an Agribusiness and Farm Insurance Specialist.  In 2014, David decided to begin farming again in addition to operating his insurance practice.  He began raising Katahdin hair sheep, Boer Meat Goats, and free-range laying hens along with help from his wife and children.  In 2017, they decided to sell their Boer Meat Goat herd and added Texel sheep to their growing Katahdin sheep flock.
Sherri Wise, Vice President of Poplar View Farm LLC, (pictured above) grew up in Madison County Virginia on Courthouse Mountain on land overlooking her grandmother's beef cattle farm.  Sherri loved animals even as a child and visited her grandmother's farm often to see the cattle.  Sherri's father also raised cattle so she loved visiting the cows and baby calves, accompanying him as he repaired fences, etc.  Sherri graduated from Longwood College (now University) with a Bachelors of Science in Business Administration and later with a Masters in College and Community Counseling.  Sherri and David met while each was active in the Virginia Jaycees and they married in 1992.  Sherri now works full time in the mental health field as Director of Operational Support and assists David after her normal work day with vaccinating baby lambs, washing and packing eggs, etc.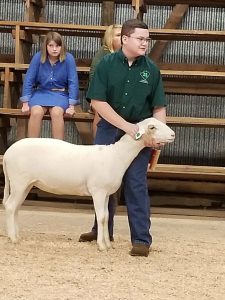 Tanner Wise, David and Sherri's son, has grown up being active in FFA, 4-H, and his church youth group.  He has served as President of the Buckingham 4-H Livestock Club and shown livestock (sheep, goats, and hogs) for over six years.  He served as President of the Buckingham Middle School FFA and has competed for two years at the Virginia State Fair giving AgriScience Demonstrations related to the sheep and goat industry.  Tanner recently attended the National FFA Convention and loves participating in many FFA activities.  He assists on the farm each day with various chores related to the care of the sheep and free-range laying hens.  Tanner also purchased a registered Hereford show heifer which he plans to breed so that he can show her calf in the future at our local fair and Junior Livestock show.