It has been an extremely difficult decision but we are liquidating our entire sheep flocks of Texels and Katahdins and all of our sheep equipment due to David's recent and unexpected heart bypass surgery.  (UPDATE:  ALL OF OUR SHEEP HAVE BEEN SOLD.)  Our remaining equipment that is for sale is listed below.  Please contact us if you are interested in purchasing or have questions.  (Asking prices are included for each item immediately following its description below.)
We will be adding some smaller items later as we have time to put those together, take pics, and post them.  Thank you for your interest.
LOT  2 –  D-S EQUIPMENT'S  8′ PORTABLE LOADING RAMP 
Here are the specs on this 8′ loading ramp from D-S Equipment's website  https://www.dslivestock.biz/products/category/loading-hauling-sheep/
This loading chute is easily adjustable for loading different height vehicles.
Asking $750 for this D-S Equipment's  8′ Portable Loading Ramp
LOT  3  –  RUN-IN SHED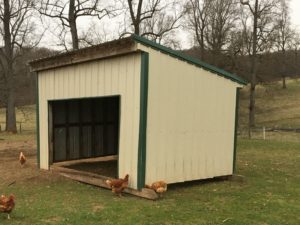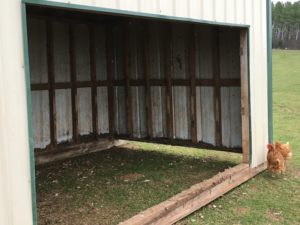 Approximate dimensions:  The shed is 106″ tall on the front and 86″ tall on the back.  The shed is 168″ long x 110″ wide.  The entrance opening is 5′ 3″ tall x 115″ wide.
To be moved by buyer at buyer's expense.  We can refer you to the building mover who delivered this building to us, who delivers and sets up buildings daily.
Asking $2,000 for this run-in shed
If you don't see what you're looking for, please let us know as we will have some additional items for sale soon.  Please subscribe below to our newsletter.
Visiting Poplar View Farm – We welcome visitors; however these visits must be made by advance appointment.
When you visit Poplar View Farm: Please wear clean clothing and shoes which have not been around sheep or any other livestock. We will also ask you to disinfect your shoes and/or wear plastic shoe covers which we will provide. If you plan to visit other sheep farms the day you visit us, we ask that you come to our place first. All of the above requests are precautions that we take for biosecurity to avoid the spread of disease and other organisms between farms. Thank you for your cooperation.