It has been an extremely difficult decision but we are liquidating our entire sheep flocks of Texels and Katahdins and all of our sheep equipment due to David's recent and unexpected heart bypass surgery.  Please contact us if you are interested in purchasing or have questions.  (Asking prices are included for each item immediately following its description below.)
We will consider any and all offers on livestock and equipment.
Our flock has tested negative for Johne's disease, OPP, and CL.  We have sold quality breeding stock for a number of years and have a very comprehensive vaccinating program to help prevent disease as follows:
Covexin-8
Mannheimia Haemolytica-Pasteurella Multocida Bacterin
Clostridium Perfringes Type A Toxoid 
TRANSPORTATION  –
If you see a ram or some ewes that you are interested in, but you need assistance with transporting them to your farm please contact us.  We have worked with a Virginia based contract hauler who does livestock transportation on a daily basis and we will be happy to provide you with his cell number so that you may text him to get a no-obligation quote.  He has hauled sheep for us from other states as well as done hauling for seedstock customers of ours.  He does a great job and is reasonably and competitively priced.
LOT  3  –  (SOLD – PENDING SHIPMENT)  –  STRAWS OF TEXEL SEMEN FOR AI 
Two photos above are of Cambwell Trademark LTC1201161
We are offering 11 straws of Cambwell Trademark for sale.
This is Glenway Yosemite MFZ1601117 in the photo above.
We are offering 12 straws of Glenway Yosemite for sale.
For more information about these two rams, please click on this document from the original proposed importation of this semen  PROPOSED BRITISH TEXEL SHEEP SEMEN IMPORTATION 2017
Asking $55/straw for these two rams above.  Buyer to pay shipping and handling from my Veterinarian's office in Buckingham, VA where these straws are currently being stored.  Please contact me to discuss details.
LOT  4  –  TWO  (2)  BRAND NEW RITCHIE OMNI-2 SPECIAL LIVESTOCK HEATED WATERERS (STILL IN BOXES)  –  SKU:  #18680  (Photo credit for photos below to: Ritchie Industries, Inc.)
Please click on photo below to visit Ritchie Industries, Inc.'s website for more information about these heated waterers
Asking $500 each for these TWO (2) brand new Ritchie Omni-2 Special heated waterers
LOT  5  –  TE PARI ALLOY WEIGH PLATFORM WITH INTEGRATED LOAD CELLS AND TE PARI T20 SCALE INDICATOR WITH WI/FI  (Photo credit for photos below to: Te Pari Products, Inc.)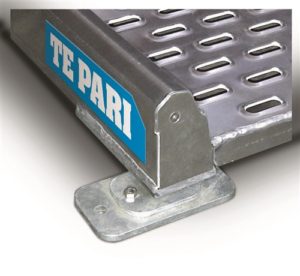 Please click on photo below to visit Te Pari Products, Inc.'s website for more information about this product https://us.tepari.com/products/animal-management/scales-indicators/
6″ x 88″ Alloy Weighing Platform is a lightweight, easy-to-use platform that is ideal for routine sheep and cattle weighing. The integrated load cells eliminate the need for a seperate set of load bars & provides superior protection for the load cells & cables.  The Te Pari T20 indicator completes the weighing system. Scale capacity of 6600 lbs. and platform weighs 88 lbs.
We especially like this Te Pari scale platform and T20 scale indicator because it is self-contained, easy to carry, and fits nicely within the 8′ panels of our sheep working chute.  We also take it out as needed and weigh cattle with it too.  We specifically chose the T20 Scale Indicator over the T10 so that we could possibly switch to Shearwell EID ear tags in the future and be able scan and weigh sheep more effortlessly.
Asking $2,400 for this complete set up that we purchased new on 1-4-2018.
LOT  6 –  2017 ALUM-LINE 16′ BUMPER PULL LIVESTOCK TRAILER
Bumper pull 6′ 8″ x 16′ long Alum-Line Showmaster Livestock Trailer (14′ + 2′ v-nose).  Photos below (without pickup truck) were taken on 2-3-2020.  This trailer is like-new and ready to put to use.  It has approximately 5.000 miles on this trailer.
We opted to not have a center divider (cut) gate installed in this trailer for versatility and the wire filled gate shown inside the trailer is included with the sale of this Alum-Line trailer so that you can haul rams separately from ewes, etc.  The lambing pen (claiming pen) shown in the inside photo is NOT included in the sale of this trailer.
The Poplar View Farm LLC signs shown on the trailer now are removable with several small bolts.  These will be removed prior to buyer taking possession of this trailer.  The trailer has a valid August inspection sticker on it for Virginia now.
Convenient 6'6″ trailer height.  Loads and pulls like a dream.  The rear tailgate has a slider gate as well as the hinged main gate.  All aluminum construction (including aluminum floor) means that this trailer was built to last a lifetime.
Please contact us with any questions that you may have regarding this trailer.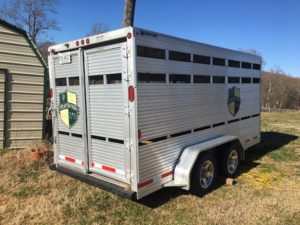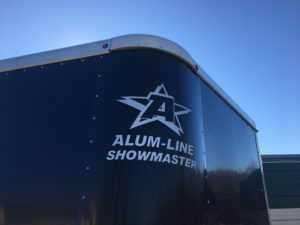 Asking $9,800 for the 2017 Alum-Line 16′ Bumper Pull Livestock Trailer shown above
LOT  9  –  TEN  (10)  8′ SINGLE-SIDED SHEEP AND GOAT FEEDERS BUILT BASED ON PREMIER1's FEEDER PLANS
Here are the specs on this trough from Premier1's website https://www.premier1supplies.com/img/instruction/127.pdf
We used welded 4″x 4″ goat panel to make the part where the sheep and goats eat hay through.  Each of these panels is welded at the joints to help them be more sturdy and last longer.  We have found that these feeders work great as fenceline feeders for sheep and goats.  However, they need to be under roof in a row to be protected from the elements.  These feeders work well for feeding both grain and hay or both at the same time.
Asking $150 EACH for these TEN (10) 8′ Goat and Sheep Feed troughs.
LOT  12  –  TWO (2) KETCHAM HAY FEEDERS RC108   6 1/2′ x 8 1/2′ Bale Feeder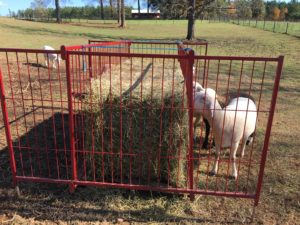 Here is a link below to the specs on these hay feeders from Ketcham's website. (Please keep in mind that the prices shown in their catalog DO NOT INCLUDE SHIPPING and that is a big part of the cost associated normally with purchasing these due to their size and weight.  They will be happy to provide you with a quote on shipping if you are trying to compare costs with purchasing these from our farm.)   Shipping when we purchased 3 of these feeders at one time cost us over $300.00 so that's why we have priced these feeders as we have.  Thank you to those folks who have asked us this very question.
https://www.ketchamssheepequipment.com/product/collapsible-big-bale-feeders/
We have used these feeders since the fall of 2018 and they do an excellent job of feeding either large round bales or 3′ x 3′ x 7′ large square bales.  They help save hay and we've never had an issue with mature sheep or lambs getting hung up in these feeders.
Asking $500 EACH for these TWO (2) KETCHAM HAY FEEDERS
LOT  13  –  D-S EQUIPMENT'S  8′ PORTABLE LOADING RAMP 
Here are the specs on this 8′ loading ramp from D-S Equipment's website  https://www.dslivestock.biz/products/category/loading-hauling-sheep/
This loading chute is easily adjustable for loading different height vehicles.
Asking $800 for this D-S Equipment's  8′ Portable Loading Ramp
LOT  14  –  (SOLD – PENDING PICK UP)  –  D-S LIVESTOCK EQUIPMENT'S SHEEP HANDLING SYSTEM – SYSTEM S  (Photo credit for first picture below:  D-S Livestock Equipment)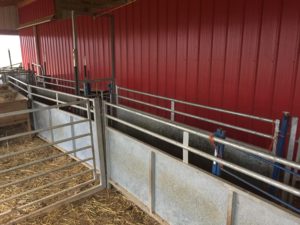 Here are the specs for this Handling System – S on D-S Livestock Equipment's website  https://www.dslivestock.biz/products/category/handling-systems-sheep/
In addition to the Handling System – S, we are also selling the following additional items as part of this package:
Two (2) Sydell Equipment 30′ wide walk-thru gates see Sydell's website for description of these gates at  https://sydell.com/index.php?route=product/product&product_id=316
Three (3) sets of two (2) 24″ x 44″ Sydell Equipment Poly Foot Bath (6 in total)  see Sydell's website description for these items at https://sydell.com/index.php?route=product/product&path=68_72&product_id=375&sort=pd.name&order=ASC
D-S Livestock Equipment 8′ Poly Foot Trough (Their Item #: FB24)  see D-S Livestock Equipment's website for description of this item (Item #: FB24) at https://www.dslivestock.biz/products/category/handling-systems-components-sheep/
Asking $5,000 for the entire package above
LOT  15  –  MOBILE CHICKEN HOUSE FOR FREE-RANGE LAYING HENS INCLUDING ALL EQUIPMENT INSIDE (SEE DESCRIPTION BELOW)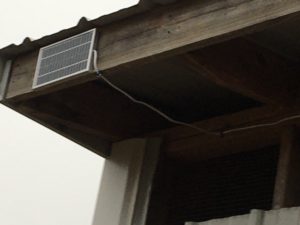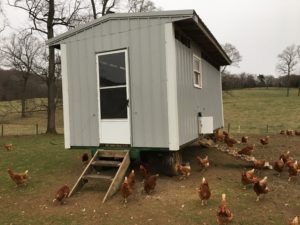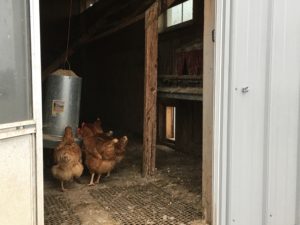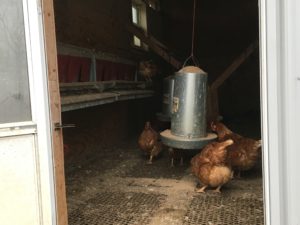 This mobile chicken house for free-range laying hens was custom built onto a hay wagon body and chassis.  It was custom built by a commercial contractor and is extremely well built.  It is easy to hook to quickly with a pickup and move to a new location within the pasture so we tend to move it more often than our prior mobile chicken house that was harder to hook up and move.
This mobile chicken house has an expanded metal (slatted floor) for easier cleaning.  Included are three (3) roll-out nests made by Best Nest Boxes so that your eggs roll away from the hens after they lay them.  This helps keep eggs cleaner and there are less cracked and damaged eggs than with traditional nests.  Each nest comes with an extra washable nest pad (that's made out of astro-turf) so that you always have clean nest pads to swap out as needed.  Also included are two (2) 40 lb. hanging feeders and four (4) water buckets.  Recently added and included is an automatic solar powered chicken door that you can set your desired time for it to open each day and close each night.  This is the model door: Standard Pullet-Shut Chicken Door Solar/Battery/Photo Combination and it can be viewed on the company's website at (please click the link below)
Also included is a spare wheel and tire in case you should get a flat tire plus the metal trash can (pictured above – inside) to store spare bags of chicken feed.
The approximate outside dimensions are:
Length of coop:  241″  (not including hitch)
Width of coop:  111.5″
Height of coop:  144″  (from ground to the highest peak of roof)
Length of hitch:  84″
Wheel base:  90″  (outside measurement from outside edge of tire to opposite outside edge of opposite tire)
Asking $4,250 for the entire package above (laying hens available separately – see LOT # 16 below)
LOT  16  –  65 FREE-RANGE LAYING HENS – ACTIVELY LAYING NOW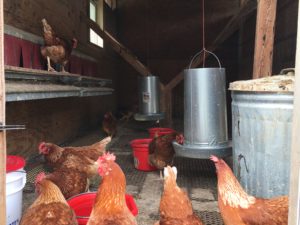 These are 65 red-sex link laying hens that produce brown eggs.  They are very productive and reliable layers which typically lay throughout the year without ceasing.
Asking $10.00 each for these laying hens above 
LOT  19  –  (SOLD – PENDING PICK UP)  –  SQUARE BALES OF STRAW
T
We prefer to sell in larger quantities such as a pickup load but will sell as few bales as 12 at a time.  You load.  To schedule an appointment to come pick up hay, please either text 434-983-8780,  e-mail:  info@poplarviewfarm.com or call 434-983-8780.
This beautiful golden straw that makes excellent bedding or multch for your garden.
Asking $5.50/bale for the straw.
LOT  20  –  (SOLD – PENDING PICK UP)  –  THREE (3) TARTER SHEEP & GOAT MINERAL FEEDERS
Specs on this feeder may be found at Tarter website at  https://tarterusa.com/tarter-products/goat-mineral-feeder
Asking $125 each for these three (3) Tarter Mineral feeders
LOT  21  –  TWO (2) TARTER SHEEP & GOAT BUNK FEEDERS WITH HAY RACKS ATTACHED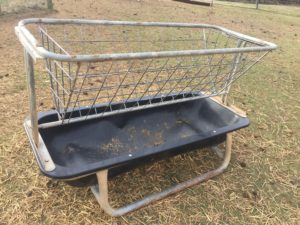 Specs on this feeder may be found at Tarter website at  https://tarterusa.com/tarter-products/goat-bunk-feeder-hay-rack#MSRP
We modified these feeders somewhat to include 4″ x 4″ welded goat wire on the ends of each hay rack to further prevent wasted hay.
Asking $350 EACH for these three (3) Tarter feeders
LOT  22  –  TARTER HEAVY DUTY BUNK FEEDER WITH HAY RACK ATTACHED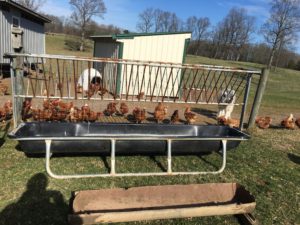 Specs on this feeder may be found at Tarter website at  https://tarterusa.com/tarter-products/5-or-10-1-piece-poly-heavy-duty-bunk-feeder
We had someone modify this hay rack to add/weld rods between each existing rod to make the spacing closer today.  This hay rack was originally designed to feed horses hay but we modified it so that mature sheep and goats could each hay out of the top rack and grain out of the bottom bunk without there being a large amount of wasted hay.  We also found that this feeder worked well for our son's show heifer.
This feeder needs a couple of long bolts replaced to attach one end of the hay rack to this bunk.
Asking $400 for this Tarter 10′ bunk feeder with attached hay rack
LOT  24  –  SIX (6) WOODEN HINGED LAMBING PENS/CLAIMING PENS 4′ X 4′ X 3′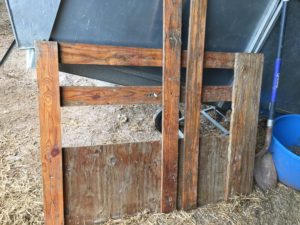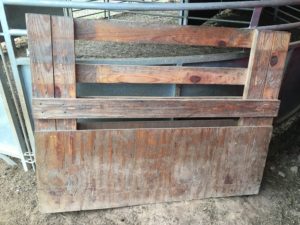 Asking $50 EACH for these wooden lambing pens
Also offering on head gate portion that goes along with these Lambing Pens for $25.
LOT  25  –  TWO (2) TARTER GALVANIZED MANGER FEEDERS  
Asking $45 EACH for these two (2) Tarter Galvanized Manger Feeders
LOT  26  –  TWO (2) TARTER WALL MOUNT POLY HAY & GRAIN FEEDERS
Asking $90 EACH for these two (2) feeders
LOT  27  –  RUN-IN SHED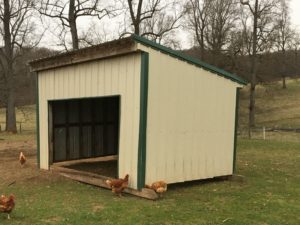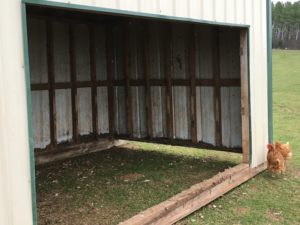 Approximate dimensions:  The shed is 106″ tall on the front and 86″ tall on the back.  The shed is 168″ long x 110″ wide.  The entrance opening is 5′ 3″ tall x 115″ wide.
To be moved by buyer at buyer's expense.  We can refer you to the building mover who delivered this building to us, who delivers and sets up buildings daily.
Asking $2,500 for this run-in shed
LOT  28  –  EXTRA LARGE IGLOO DOG HOUSE
Asking $75 for this Extra Large Igloo Dog House (pictured behind the run-in shed above)
LOT  29  –  HOMEMADE FEED TROUGH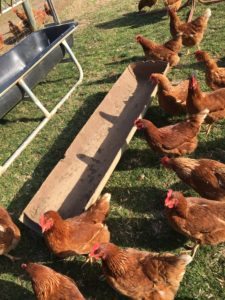 Asking $35 for this homemade trough
If you don't see what you're looking for, please let us know as we will have some additional items for sale soon.  Please subscribe below to our newsletter.
Visiting Poplar View Farm – We welcome visitors; however these visits must be made by advance appointment.
When you visit Poplar View Farm: Please wear clean clothing and shoes which have not been around sheep or any other livestock. We will also ask you to disinfect your shoes and/or wear plastic shoe covers which we will provide. If you plan to visit other sheep farms the day you visit us, we ask that you come to our place first. All of the above requests are precautions that we take for biosecurity to avoid the spread of disease and other organisms between farms. Thank you for your cooperation.